SC Chain Hoist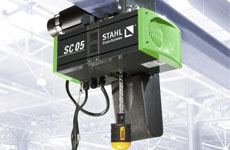 Contact Us
In the SC we have systematically advanced the world's largest chain hoist programme. The SC chain hoist supplements the field-proven ST programme in the standard range and convinces with its intelligent design and equipment.
The SC chain hoist is a modular design and ready for use fast thanks to its plug-in components. The series starts off with the three frame sizes SC 02, SC 05 and SC 10. Thus it initially covers the S.W.L. range from 63 kg to 2,500 kg. The chain hoists can be used as stationary models with suspension hook, eye or rigid suspension. In the case of mobile chain hoists, field-proven push and electric trolleys in various forms are used.
The most important innovation is the patented 5-pocket chain sprocket. An extra cog supports the vertical chain link and provides additional positive locking between chain and chain sprocket. This reduces wear and permits higher loads on the chain while maintaining the high level of safety.
Also new on the SC chain hoist is the arrangement of brake, slipping clutch and motor in one axis. The slipping clutch is not in the power flux during braking and thus has no impact when the system has come to a standstill. In addition to this, the SC offers a greater variety of hoisting speeds with 25 % higher safe working load.
The straight lines of the SC chain hoist's design and its modular construction form the basis for individual off-standard and engineering solutions and make access for maintenance and modernisation easier.
We use high-tensile powder-coated aluminium for the high-quality robust case. The standard equipment also includes the hoist limit switch for top and bottom hook position. The electric trolley is equipped with frequency control.
BENEFITS:
Chain hoist programme for the S.W.L. range from 63 kg to 2,500 kg
Robust aluminium case
Short, compact construction designed with straight lines
All electrical components are plug-in (standard hoist)
Patented 5-pocket chain sprocket (EP 2 047 141 B1)
New design of directly active load limiting (slipping clutch)
High standard classification to FEM
Integrated hoist limit switch
Extended temperature range from -20°C to +50°C