ST Chain Hoist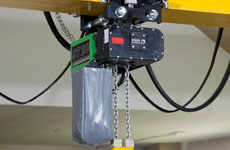 Contact Us
The ST series from STAHL CraneSystems ranks among the most comprehensive chain hoist programmes on offer in world. In use in thousands of applications for many decades, modernised and optimised over and over again, the ST chain hoist is a true classic. Powerful, reliable and undemanding as far as maintenance and power consumption are concerned, the ST series comes in 13 S.W.L. ranges, from 125 kg to 6,300 kg. The chain hoists can be used as stationary hoists with suspension hook or eye, with rigid mounting, or with a push or electric trolley, and are especially suitable for rugged applications in industry.
Thanks to the modular design of the ST series, we can develop a suitable off-standard hoist for every tricky problem. Not rarely do these developments later find their way into our standard hoist programme:
e.g. the [extra] short headroom trolley with extremely short headroom. Or the STD dual chain hoist, which is now also available as STD Vario with adjustable spacing between the hooks.
We also manufacture the complete ST chain hoist programme in explosion-proof design. STAHL CraneSystems was the first manufacturer to convert its entire chain hoist program to conform to ATEX.
BENEFITS:
Proven thousands of times
All precision parts from own production, made in Germany
Robust, reliable, undemanding
Very high classification according to FEM
13 S.W.L. variants from 125 to 6,300 kg
Five different suspension variants possible
Two lifting and travel speeds as standard
Modular system: hoist components combinable at will
Many off-standard solutions since incorporated into the standard programme