SHK Manual Chain Hoist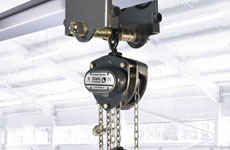 Contact Us
The SHK manual chain hoist can be used in numerous applications - with no need of a power supply.
It is compact and robust and thus perfectly suited to professional use in cramped conditions. Its low deadweight means it is easy to transport and mount wherever you need it.
The SHK manual chain hoist stands for simple, ergonomic operation and high operating reliability. Its workmanship is high quality and it is designed for maximum loads of 250 kg to 5,000 kg.
For the S.W.L. range from 500 kg to 20,000 kg, STAHL CraneSystems offers the SHK+ manual chain hoist, which is of practically identical construction. This model has a special coating and is thus also suitable for rugged offshore applications.
STAHL CraneSystems' manual chain hoists can be mounted staticly with suspension hooks or various trolleys. The SHK manual chain hoist achieves its lowest headroom in combination with the SIHK trolley.
The manual chain hoist is also available as an explosion-protected variant SHKex for use in hazardous areas.
BENEFITS:
Robust manual chain hoist for the S.W.L. range from 250 kg to 20,000 kg
Steel gear casing and handwheel cover
Powder coating RAL 7021, 70 �m film thickness for SHK, 180 �m film thickness for SHK+ (offshore quality)
High-tensile steel alloy load chain, hot-dip galvanised
Stainless steel chain as an option
Powerful and smooth-running thanks to milled chain sprocket and gearwheels
SHK+ chain sprocket with additional ball bearing
Slipping clutch as overload protection on SHK+
Weston-type brake, double ratchet, two friction discs, four brake surfaces