ST-ex Explosion Proof Chain Hoist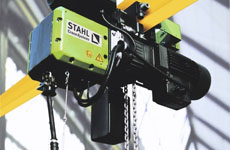 Contact Us
When it comes to the safety of people and machines in potentially explosive gas and dust environments, STAHL CraneSystems is pioneering, dynamic and uncompromising. STAHL CraneSystems is the world market leader and acknowledged specialist for explosion-proof crane technology.
With our many decades of know-how and experience, our own fundamental research and development, and approvals from the German Federal Physico-Technical Institute (PTB) and other test institutes in many countries, we hold a prominent position in this field.
All components of our chain hoists without exception, from motor and brake to control equipment and control pendant, come from our own production. This ensures maximum and high-quality explosion protection. The new, strict ATEX regulations on mechanical explosion protection are naturally met. STAHL CraneSystems was the first manufacturer of overhead material handling equipment to implement the ATEX directive in its entire product range.
BENEFITS:
World's leading specialist for explosion-proof crane technology
Everything from one supplier and our own production
Design and maintenance in compliance with ATEX and IECEx in certified quality
Also available in handy crane kit - pre-assembled, tested, approved
World's first full hoist range for Zone 1, Zone 21 and Zone 22