SH Wire Rope Hoist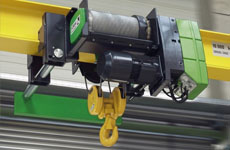 Contact Us
The SH wire rope hoist from STAHL CraneSystems is one of the best hoists in the world. Compact, powerful and particularly maintenance-friendly.
The SH modular system permits practically unlimited combinations of the individual components. Five frame sizes, 26 S.W.L. variants between 500 kg and 25,000 kg: this makes the SH wire rope hoist the best hoist both for standard and off-standard solutions. Stationary or with one of the many travel carriages - crane manufacturers and system manufacturers alike will always find a suitable solution among the SH modules.
The SH wire rope hoist programme is naturally also available in explosion-protected design for Zone 1, Zone 2, Zone 21 and Zone 22.
BENEFITS:
Five frame sizes
26 S.W.L. variants up to 25,000 kg
Can be supplied stationary or with various travel carriages
"U"- design makes for compact dimensions
Maintenance-friendly, long-lasting
Safety components for greater safety at work
Optionally available in explosion-protected design