ASR 7 Wire Rope Hoist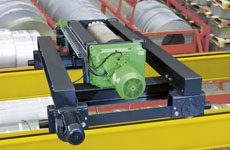 Contact Us
The ASR 7 wire rope hoist has been especially developed for the load capacity range from 20 to 32 tonnes. It closes the gap between the field-proven wire rope hoist series SH and AS 7. Thanks to the lower load capacity and in some cases lower classification, smaller motors and long-life ropes with smaller diameters can be used. The bottom hook block and rope return sheave have been adapted to the smaller diameter of the rope. The result is a price saving of around 25 % compared with comparably dimensioned AS 7 with double rail crab.
Depending on load capacity and application, the ASR 7 is available in three different FEM classifications. It can be used in combination with double rail crabs on double girder overhead travelling cranes, or as stationary lifting or towing equipment. The new wire rope hoist is also available as ASRF 7 with frequency-controlled hoist motors for smooth hoisting and stepless speeds.
The accessories too are convincing:
For the first time on the AS 7 series, load measurement is at the rope anchorage as standard. This permits the lifting and lowering motions to be measured accurately and the load to be indicated on a display.
BENEFITS:
Standard hoist with excellent price-performance ratio
Reduced design for load capacities from 20,000 kg to 32,000 kg
Stationary design or double rail crabs for crane and systems building
Compact construction and short approach dimensions
Greater lifting height
Accurate load measurement, at rope anchorage as standard
Largely maintenance-free, low wear